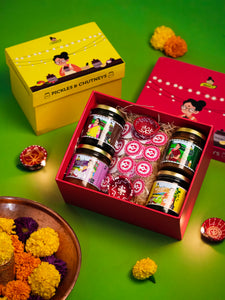 This Diwali, let's honor our roots and age-old traditions. Gift your loved ones a taste of home with Maa's Festive Gift hamper. From the foothills of the Himalayas, we bring you artisanal Pickles and Chutneys that pay homage to the rich heritage of Uttarakhand. As a women-led business, we are committed to creating employment opportunities for local Kumaoni women, who are often the sole breadwinners of their families and victims of domestic violence.
The Red Box includes:
4 flavors: Kale Chane Achaar , Hari Mirch Achaar (180gms) Teekha Lehsun Chutney and Nimboo Chutney (200gms) 
2

h

and-painted diyas in Aipan, a folk art from the Kumaon region of Uttarakhand

2 leaflet stickers of Lakshmiji Charan
Celebrate Diwali with the authentic flavors and artistry of the Himalayas.
P.S: - For bulk orders and customisations, please contact us at +91  8412023030